This product is based on the principle of percutaneous absorption, made of polymer hydrogel that contains ingredients which extracted from natural plant, has antipyretic analgesic effect , is the best choice for children and adults who is in fever.
It contains pure natural plant ingredients, is health care patches, belongs in physical cooling patch, is not drug-induced cooling.
The cooling effect will last for 6-8 hours in general. And according to the individual constitution is different, the effect will also be different.
We can send you our free samples. If you want patch that has stonger cooling effect after using the samples, because of OEM service is ok for us, we could increase the proportion of the cooling ingredients.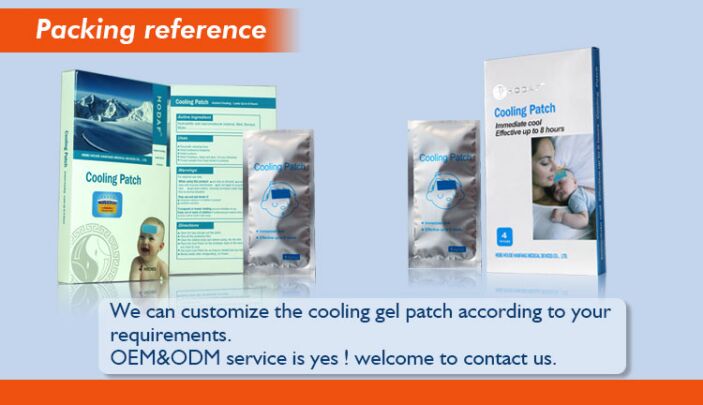 1. OEM: offer
2. Property: reduce the fever
3. Size: 4*11cm, 5*12cm, 5*7cm
4. Ingredients:
Hydrophilic and macromolecule material, mint, borneol , water.
5. MOQ: 10,000 patches
MOQ for OEM service: generally 30,000 bags, or 2,000 boxes
(also according to your exact requirements).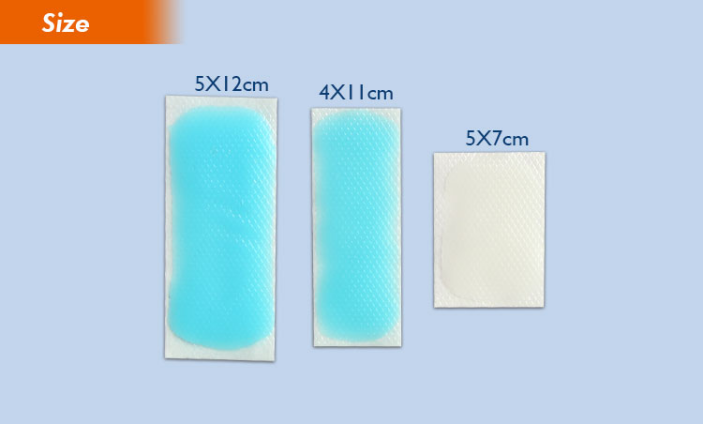 6. Functions:
1). Physically reducing fever;
2). Local temperature dropping;
3). Relief toothache,headache;
4). Relief sunburn;
5). Relief tiredness, sleep and daze. Let you refreshed;
6). Protect people from heat stroke in summer.
7. Warning:
1). Do not apply patch to sensitive skin, positions around eyes and mouth;
2). Possible sickness or skin reddening during use will disappear after use;
3). Do not apply to hair, eyebrow, left chest and area with perspiration;
4). When used on very young children, use only under adult supervision;
5). Gel goes watery, viscosity increases under high temperature, this is normal situation;
6). If some gel is left on skin, only need to wipe it.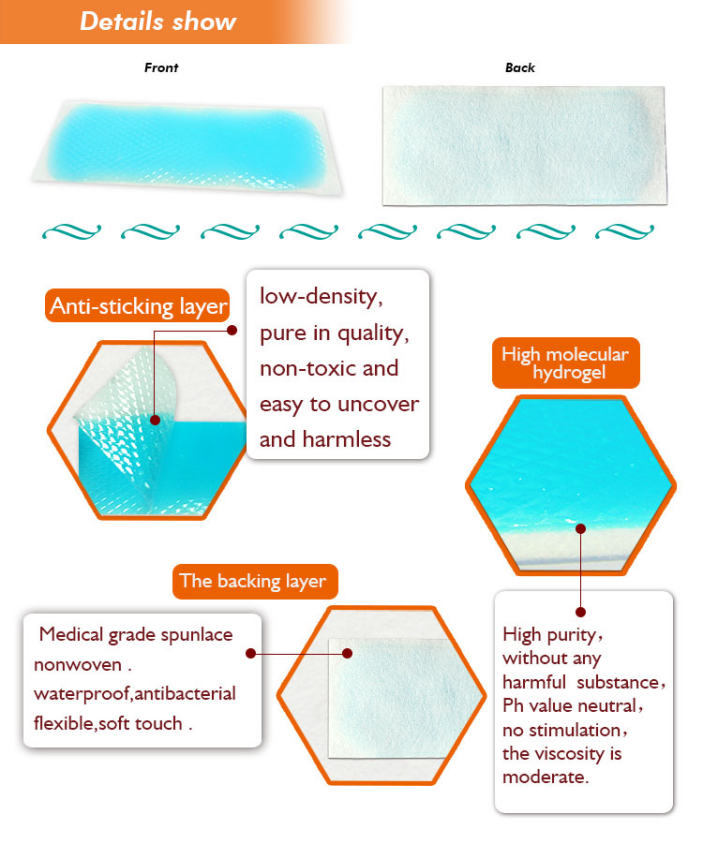 8. Packaging Details:
Type 1: (in box)
Step 1: put 1 piece into one bag (7x14cm);
Step 2: put 4 bags (4 pcs) into one box (10x16x1.7cm);
Step 3: put 280 boxes (1120pcs) into one carton (46x32x30cm).
Or, pack according to your requirements.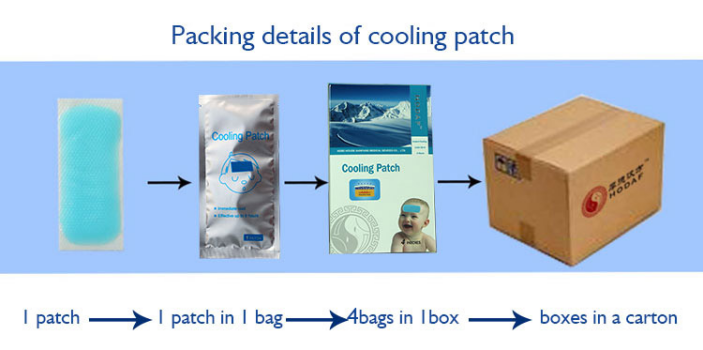 FAQ:
Q1. Are you the manufactuer or trading company?
We are the manufacturer with ourself factory, and we have over 25 year production experience for Chinese plaster and patch.
Q2. Can you provide some samples?how much for the shipping cost?
Sure,We can provide 10 pcs free sample,but you need pay the freight fee. Normally freight fee is about $30-50 via DHL or EMS, you can receive the sample about 5-7 days.
Q3. Can you do OEM for us?
Yes,of course.we have done OEM service for many companies in the world,and we can provide the customized logo,package and ingredients for your requirement.
Q4.How to order?
First, you select the product and let me know your order quantity and package request.
Then, we quote you price offer and freight. If it is OK, we would send you Proforma Invoice for your payment.
Then, we would arrange the production after receiving the payment. Once finished, we would arrange shipment and inform you of shipping details.